March 16, 2019 8:00 – Noon
Alpaca SCAT Poop Scoop Give Away
Date: Saturday ~ March 16th
Pick up your first load for free and receive a 10% discount while shopping in the alpaca gift shop.
Call ahead to let us know you are coming ~
717-359-9989
Time: 8:00 – Noon
Where: Quarry Critters Alpaca Ranch
580 Basehoar Rd
Littlestown, Pa 17340
Here's the thing:
We have alpacas. Alpacas make poop. This poop has piled up for the last year and some even longer. Alpaca poop makes an excellent soil enhancer. This enhanced alpaca soil will make your garden so noticeably healthy you won't believe your eyes.
Take a look at this chart comparing alpaca compost to others: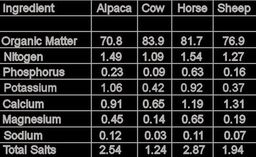 So…
We would like to share our mountain of poo with you.
on other Saturdays, between 8:00AM – 12:00PM, we are scooping up a load, a tractor load, that is, about 1/3 yards to dump into your pick up truck. Don't have a pick up truck? Well some people have been very creative such as, trailers, trash cans, buckets. We'll dump it and you can shovel it in.  We will share the first scoop for Free. The free scoop is available on March 16, only. Additional loads are available, for $16.00, Saturday mornings 8-noon, by appointment,
Once you arrive at Quarry Critters Alpaca Ranch stop by the Gift Shop, on your way to collections, so we can point you in the right direction.