Kromski Spinning Wheels and Looms 
at Quarry Critters Alpaca Ranch
I'm so proud to announce that Julie Wysong is a Kromski Dealer. Julie has been spinning and making yarn on her Kromski Sonata for the last 17 years and after teaching several alpaca processing classes, which included teaching spinning, she has made the the leap to selling spinning wheels, looms, niddy noddies, hand carders and other fiber related tools. 
As an entry announcement and among the first to help Julie's dealership, QCAR is offering free 6 or 9 hour spinning classes, with your purchase of a Kromski spinning wheel from QCAR. Available are individual classes where you earn 6 hours of lessons or join a class with others and get 9 hours of lesson, included with your purchase of a Kromski Spinning Wheel. If you live outside the area, your Kromski product can be drop shipped to you and instead of free classes Julie will send an alpaca fleece. 
We recommend beginners start with the Sonata. 
Here's why: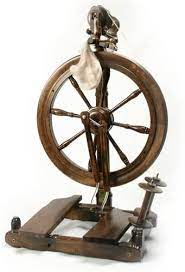 The Sonata is clearly the  top choice in the traveling wheel category!
This spinning wheel can be unpacked from the highly durable, heavily padded backpack (that is INCLUDED with purchase) and ready to spin at your next class or guild meeting in 3 minutes or less. When the Sonata is folded for transportation, the dimensions are a compact 22" tall, 19.5" wide and 7" deep. Carrying the Sonata is almost effortless because the wheel and bag combined weight is less than 16 pounds.
Made from beautiful, hand-picked European alder and birch woods, the exceptional value, style and function of this travel wheel make it a very popular choice amongst spinners everywhere.
These features combined with the options of adding a Jumbo Flyer kit make this a very  unique traveling wheel. Jumbo Flyer kits expand the spinners range in two ways. First, the type  of yarn created can vary from lace-weight to super bulky art yarn because of the larger orifice on  the jumbo flyer. Subsequently, the jumbo bobbin allows spinners double capacity of the regular Kromski bobbin from over 4 oz. up to half pound! This means longer, continual drafts for skeins with greater yardage.
The Kromski Sonata Includes :
3 bobbins (120g/4.2oz capacity)

Spinning Wheel Oil

Threading Hook

Heavily Padded Backpack
We recommend the Sonata for beginners however we offer the whole line of Kromski products. Kromski offers 7 different spinning wheels in a choice of finishes along with accessories. We carry the table looms and needle felting kits along with the Polish Merino Wool. 
It might take  a while to get all the products up on the website but you can still order your wants by emailing Julie at juliesalpacas@gmail.com  until you see it on the website. If you want to see all the Kromski products we carry you can view the Kromski website at this address: http://kromskina.com/ . 
August 4, 2021
Quarry Critters Alpaca Ranch    Littlestown, PA 17340