QCAR Alpaca Gift Shop 
Shop hours:   Wednesday  – Saturday 10:00 – 3:00
Our gift shop offers a range of handmade alpaca products and clothing, alpaca fibers in raw fleece, roving, yarn, needle felting supplies and kits and batting are available. Alpaca manure compost for your garden by the truckload or tea bags (for your house plants). We sell Poulin Alpaca Grain Feed , Dectomax, and halters for alpaca herd health.
Classes have been created and are on the website, we offer classes in fiber production and fiber arts. Take a look, I hope you can find a class with a time you can attend.
Tours our alpaca ranch with a knowledgeable guide, 
by appointment. $8.00 per person, discounts offered for larger groups.
 *The tours include alpaca education
              On the tour you will meet the alpacas and learn about handling and care,
* See our production room and all the magic that  happens to the alpaca fleece after it has been                   sheared off the alpacas.
*Finally visit the alpaca gift shop to see all the great products that can be produced using                            alpaca fiber. These items are for sale and make great gifts or memories of your visit to the                          alpaca ranch.
We breed alpacas for the best quality health and fiber.  Our alpacas are for sale.
Have you ever thought about owning alpacas? Want to know more about care and ownership of them? QCAR offers alpaca ownership education by a knowledge instructor, David Wysong has been caring for alpacas since 2004.  This 2 hour class is offered on Sunday 2-4. Must schedule.   You will find answers to all your question.  Please call to schedule 717-359-9989 or sign up online    This class is free to anyone that has purchases an alpaca from Quarry Critters Alpaca Ranch.
Scat—-   Soil, Care, Alpaca Poop, Treatment
Available year round. Call to schedule a tractor bucket load, Saturdays 8-12.
EVENT—Pick up a Load
Get your gardens ready.
Alpaca manure or SCAT, as we like to call it, (Soil, Care, Alpaca Poop, Treatment) is a fantastic assortment of nutrients for your garden plants.
During, our March SCAT event, a  one day giveaway event we are scooping up a load, ~a tractor loader full, that is,~ about 1/3 yards, to dump into your pick up truck. Buy one get the second load free.
Don't have a pick up truck? Well some people have been very creative such as, trailers, trash cans, buckets or bags. We'll dump it someplace and you shovel.
We will share the second scoop for free, that's a $16.00 value. Additional loads are available during this one day event and throughout the year on Saturday mornings 8-noon, by appointment, for $16.00
Alpaca Fleece Harvest Day
3rd Sunday in May   ~   2022 May 15th
All year long we offer, Alpaca fleece, fiber arts classes and a gift shop fill with products and apparel made with alpaca fiber.
Where does all that alpaca fiber come from?
The answer is: it comes from our alpacas, grown right here on the ranch.
Shearing day is harvest day at the alpaca ranch.  All the alpacas get their hair cut. We collect their fleece to supply the shop.
You are invited to watch or get your hands on the fun.
We have a viewing area where you can watch the shearer, Nathan Good, and helpers take the alpaca fleece from the alpaca.  Remember to visit the alpaca gift shop to take home a little alpaca of your own.
2021
First Saturday in October 1, 2022
This years Farm Days will be all about the alpaca fiber.
We have invited Time Warp, PA's leading Sheep to Shawl winners, to return and they have accepted. Time Warp will be taking a raw alpaca fleece and turning it into a finished woven scarf.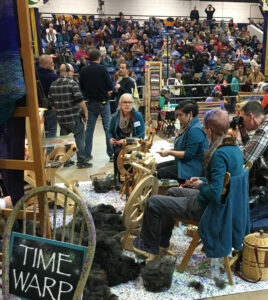 Also demonstrating alpaca processing will be the students from our "Let's Grow an Alpaca Scarf" class.
Maybe you would like to join our SIT IN, this is where you can bring your projects and sit with us. 10:00 – 3:00 bring your chair and lunch.
BUT…..
QCAR Alpaca Gift Shop will be open and with an unheard of SALE. Start your holiday shopping
The Alpaca Gift Shop will be open 10 – 3, Saturday, Oct. 1, 2022 . You are invited to enjoy an amazing sale of 25% off in store items only  including fiber, yarn, socks, gloves, scarves, sweaters, vests, hats, and so much more. Sale is for Saturday only.
Also along with this discounted sale, one day only, we are opening the alpaca road so you can enjoy a self guided walk down the lane to view the alpacas. Bring your camera and feel free to take pictures.
Please help our small local business to stay open, come stop by or shop online. We are open  for in person customers Fridays and Saturdays 10 – 3  and always open online. We are here, so please schedule a private shopping day.
Thank you for being our customer and please take advantage of this amazing alpaca gift shop sale as our appreciation.
Quarry Critters Alpaca Ranch 580 Basehoar Rd., Littlestown, PA 17340
October 1, 2022
10:00 – 3:00
More info call or email 717-359-9989
Free Admission and Free Parking
Visit our Alpaca Gift Shop
The gift shop at Quarry Critters Alpaca Ranch is
always opened  Online (www.QuarryCrittersAlpacas.com) or
by appointment 717-359-9989, juliesalpacas@gmail.com
Shop in store
Wednesday –  Saturdays ~~~ 10:00 – 3:00
Please  check Quarry Critters Alpaca Ranch Facebook Page for any closings that are schedule.
Gift Shop Closed September 4 – 11, 2022