One Knitters Dream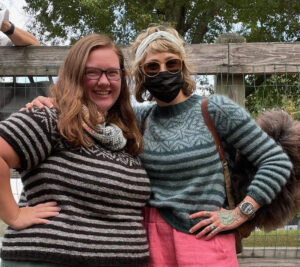 I am so proud of Cortni,. She set out to knit a sweater to wear to Rhinebeck and meet the designer. 
There is so much more to this story. 
   Cortni was enrolled in QCAR class called "Let's Grow an Alpaca Scarf".
This beginner class lets you meet an alpaca and process it's fleece from beginning to end. As it turns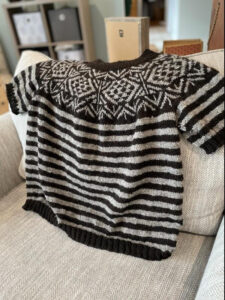 out Cortni was not a beginner but she admits learning a thing or two. During the process of the class she fell in love with the alpaca fleece and  found the pattern: Illuminate Sweater by Andrea Mowry, that she wanted to knit.
Every year Quarry Critters Alpaca Ranch shears the alpacas. The prime coat from these alpacas gets lightly skirted and put on display for sale in the Alpaca Gift Shop. This is where Cortni found and bought Fleece. She bought  "Shooter's" fleece (black) and "Man of Mystery's"  fleece (grey) and began processing them. A known fact about alpaca fleece, it's best to mix in about 20% merino to help hold the shape.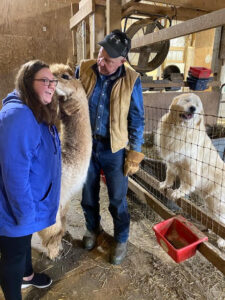 So while carding the alpaca fleece Cortni and Sarah, her mother- in -law, (also in the class) had to calculate how to put 20% merino in the fleece. We determined that it would be best to add the merino to the raw alpaca prior to spinning. Once the merino was mixed in and carded, Cortni started spinning. After spinning and plying to make yarn, the knitting began. Knitting resulted in this beautiful sweater and her mission was completed. She was able to join the designer, Andrea Mowry, wearing her sweater, at Rhinebeck – Wool Festival in NY.          
I am so proud of Cortni for making a huge goal for herself and completing this huge project in such a timely manner. What an inspiration to us all.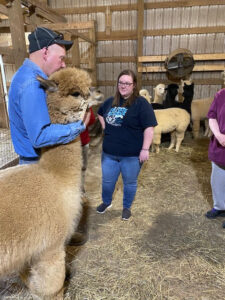 Written by Julie M Wysong
10/18/2021