Description
Saturdays   8:00 – Noon please call ahead 717-359-9989
SCAT EVENT      March 26, 2022  8:00am – Noon
Specials for March 26, 2022 include: 
2 scoops for the price of one and a 10% discount in the Alpaca Gift Shop 
Alpaca SCAT Spring – Great way to start your garden by putting organic SCAT – (soil care alpaca poop treatment) it's a soil enhancer
Alpaca SCAT  Fall – It's time to put your garden to bed for the winter season. This is the best time to apply alpaca SCAT.
Application: Put the SCAT on top of your garden, cover with leaves or mulch. All those wonderful nutrients will get to work to enhance your soil with healthy nutrition that will seep into your soil, providing food for your plants.
Time: Saturdays 8:00 – Noon, please call ahead
Where: Quarry Critters Alpaca Ranch 580 Basehoar Rd Littlestown, Pa 17340
Seasoned alpaca poop
1 year + aged
Outdoor use only
Put on your garden to enrich soil
Grows healthy plants
About 1/3 yard tractor bucket load
Here's the thing:
We have alpacas. Alpacas make poop. This poop has piled up for the last year and some even longer. Alpaca poop makes an excellent soil enhancer. This enhanced alpaca soil will make your garden so noticeably healthy you won't believe your eyes.
Take a look at this chart comparing alpaca compost to others: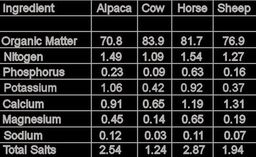 So…
We would like to share our mountain of poo with you.
Saturdays between 8:00AM – 12:00PM, we are scooping up a load, a tractor load, that is, about 1/3 yards to dump into your pick up truck. Don't have a pick up truck? Well some people have been very creative such as, trailers, trash cans, buckets and even bags. We'll dump it and you can shovel it in.  Each load is  available for $16.00, Saturdays   8-noon, please call ahead.
Once you arrive at Quarry Critters Alpaca Ranch stop by the Alpaca Gift Shop. Once in or near the gift shop we will direct you on your way to collections, so we can point you in the right direction.