Description
Needle Felting is like painting with wool. Each color and each poke of the needle creates characteristics in your project. A needle felting needle is very sharp!. It has barbs on it that grab the wool fibers causing them to bind together. In this way you are able to make shapes and add color to create a project.
In this kit, you will find directions, needles, surface, and wool fibers to create the project. This kit will make 1 rabbit holding a carrot wearing blue trousers.
This kit comes with 2 single general purpose needles and a needle felting surface  and all the alpaca/wool  fibers needed to complete the project.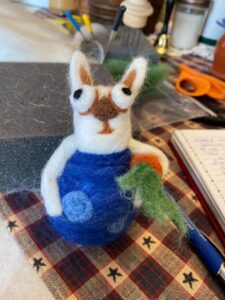 $15 –  Full kit  color direction, enough wool to make 1 alpaca, with needles and surface. Your choice of colors brown, gray, black or fawn.