Alpaca Roving, Fleece & Raw Fiber
Buy Bulk and Save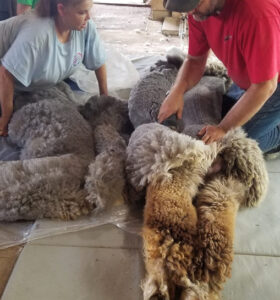 Quarry Critters Alpaca Ranch offers wholesale prices when you buy alpaca fiber in bulk, which can be done directly from our ranch in Littlestown, PA or online.
All of our alpacas are ARI registered and we breed huacaya alpacas with the goal of upgrading their fiber quality, so you can rest assured you'll be receiving some of the softest and strongest material available. Our alpaca fiber is sent away for testing, a histogram is available upon request. With years of experience as an alpaca fleece/wool supplier, our family-owned ranch prides itself on producing high-quality fleece alongside excellent customer service.
You can view the types of wholesale alpaca wool for sale at Quarry Critters below. We're happy to offer convenient prices to wholesalers who want to buy alpaca fleece/wool in bulk.
Grade 1 Alpaca Fibers
Our Grade 1 alpaca fiber is comprised of less than 20 microns, making it incredibly soft and ideal for baby clothing and accessories, as well as any items that are gently worn. To qualify for wholesale prices, buyers must purchase at least 12 pounds of Grade 1 fiber.
Grade 2 Alpaca Fibers
Between 20 and 22.9 microns, Quarry Critters' Grade 2 fiber is very soft and also suitable for gently worn items and baby products. Customers must purchase 12 or more pounds of Grade 2 fiber to be eligible for wholesale prices.
Grade 3 Alpaca Fibers
From 23 to 25.9 microns, Grade 3 alpaca fiber is some of the most versatile available. It's both soft and sturdy, ideal for use in sweaters and similar apparel. To order Grade 3 fiber at wholesale prices, customers must buy 10 or more pounds of material.
Grade 4-5 Alpaca Fibers, seconds and thirds
Available upon request and availability.
Roving Alpaca Fibers
At Quarry Critters, we also offer roving, which comes in natural colors and is made from the prime coat of the alpaca. This is available at wholesale prices bulk sales start at 3 pounds.
When purchasing fiber from our family-owned ranch, please bear in mind that we are limited by the number of alpacas we shear each year. If you have questions about the wholesale alpaca fiber for sale at Quarry Critters Alpaca Ranch, please contact us for more information, and we'd be happy to help!
Have Questions?
For any general questions about Quarry Critters Alpaca Ranch's products or services, please fill out the form below and we will get back to you as soon as possible.