Description
Needle Felt to decorate Alpaca Mittens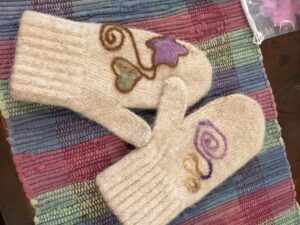 We have alpaca mittens in natural and dyed colors.  Once you decide on a size and color, Then its time to be creative using needle felting and fibers. The mittens that you make will definitely be a one of a kind creation for you or as a wonderful gift for a friend.
A fun hands on fiber arts workshop using cookie cutters  or your own freestyle design for your Mittens. Make one with lots of details. 
 Pick a date from the drop down box
Quarry Critters Alpaca Ranch will be  holding a workshop to get your holiday spirit going
Location: 580 Basehoar Rd, Littlestown, PA 17340
In this workshop we will be making a pair of needle felted mittens with your own needle felted design. 
Julie Wysong will be showing you the way. Who's in?
Registration is online and now open
Cost: $45      For the price of the mittens you get needle felting instruction and fibers to create your design on the mitten. 
Supplies: One pair of mittens and enough Fiber to complete your design, will be supplied in the price of the class.  A needle felting surface and one needle will be available for purchase $3, from the QCAR Gift Shop. 
From the drop down box choose a date that works for you. Be sure to bring a friend.
We will help get your decorating juices flowing. 
Needle Felting is like painting with wool, or alpaca fibers. We will use a very sharp needle, not for small children.  This sharp barbed needle will poke the wool or alpaca fibers and grab the wool/alpaca  to bind the fibers together to make a shape. In this workshop we are making flat shapes using cookie cutters as our guide.   Needle felting needles are very sharp. This activity is not for young children.